In India, sarees come in so many different types, shades, designs, patterns and fabrics that one cannot possibly own all. But, if you are a saree enthusiast, then your wardrobe must be packed with some of the most beautiful, classic, trendy and breathtaking sarees. Though, we appreciate the traditional classic sarees like kanjivaram, tant and others, fashion lovers today also have a knack for new age designs and trends.
The look of sarees has changed over time as new designers have come up with innovative, creative and trendy patterns and designs. Traditional sarees like kanjivaram, tussar, Muga silk, tant etc. are always a favourite, but new designs like painted sarees or patch work sarees have also gained popularity.
If you buy kanjivaram sarees online from different e-commerce portals if you are looking at something very traditional, elegant and classic. If you want something similar to kanjivaram saree designs that celebrities have worn, then also you can search online. You will get similar looking or very close to that for an affordable price.
If you are looking for something more modern and trendy and especially in hand painted sarees, you can check out kalamkari sarees online. Kalamkari sarees beautiful hand painted or block printed sarees with intricate design and a favourite among women who love to wear sarees with a difference. Kalamkari sarees are very comfortable as they are cotton based. You can buy nice Kalamkari sarees online at reasonable rates from different e-commerce portals.
Apart from Kalamkari designs, here are a few new and trendy designs/patterns that you can try out.
The Color Splash: These designs include a lot of colours like green, saffron, blue, baby pink, yellow and others and look like splashes of colour. It looks unique and very soothing to the eyes as well. It is best when the base colour is white or cream.
The Tribal Paint: Tribal designs have been popular for quite some time now. Nowadays, bigger patterns in vibrant colours like red, blue and green. They either depict tribal faces or Nature or anything related to their livelihood.
The Spiral Rounds: Spiral designs are new and they come in bold colours. They look very trendy and fashionable. It creates an illusion and helps to make you look thinner and hide your baby fats. You can opt for smaller or bigger spirals and colour contrasts.
The Floral Views: Floral patterns are very popular and come in a lot of variety. They are both pleasant to wear and also to look at. Florals are best for summers and can be painted or printed on different fabrics and colour combinations.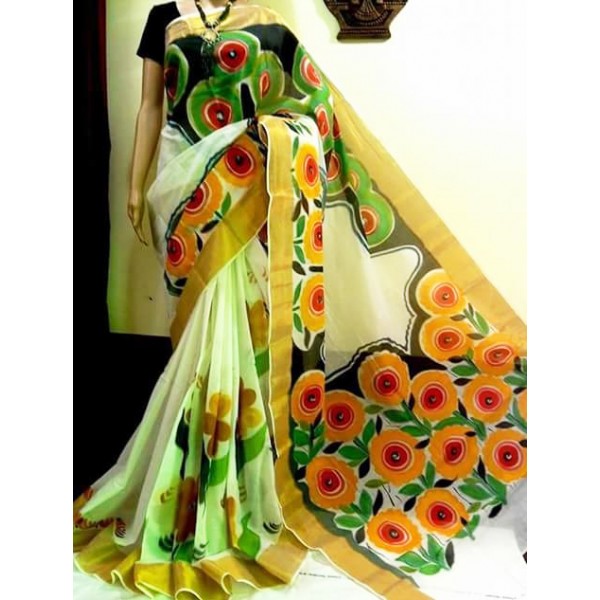 The Mythological Touch: These can include the painting of Gods and Goddesses or other mythological figures or stories. They can be large images of deities or some mythological event of importance.
There are other creative and abstract designs that look amazing on sarees. If you love to flaunt your quirky side and look stylish and elegant, then you can definitely try out these 'cool' designs, this summer.